"An event is not over until everyone is tired of talking about it." - Mason Cooley
If you have an online event coming up (or really any kind of event where you're trying to fill seats) and you want to promote it on social media- or more specifically on a platform that doesn't allow link sharing like Instagram- there is an easier, faster way than you probably think.
Some of the more common ways to invite people to an event on social media are to either send people to the link in bio, or to simply put the link out there on platforms where link sharing is possible. Some event managers will also use ManyChat- a chat automation tool that allows you to automate direct messages (DMs) on certain platforms- and is a fantastic way to increase your clickthrough rate for just about anything.
Although if you're simply using a keyword trigger to send people a link that takes them over to a web form in order to sign up, you might be interested to know that according to research, only 14% of online users are willing to fill out a form over using a chatbot.
Meaning, if you're simply using a chatbot to send people right over to a form, you're likely turning your invitation process into more of a snooze-fest than a FOMO-fest.
And losing a lot of potential registrations in the process.
If you're still reading, you probably know already that there is probably a way to make your guest-listing even more effective and automated, and you are absolutely right.
Let me walk you through an example of how we're using an effective, high-converting, and relatively new way to invite people to our own live workshop on social media marketing next month.
(Although if a short, 10-minute video walkthrough is more your thing, here it is)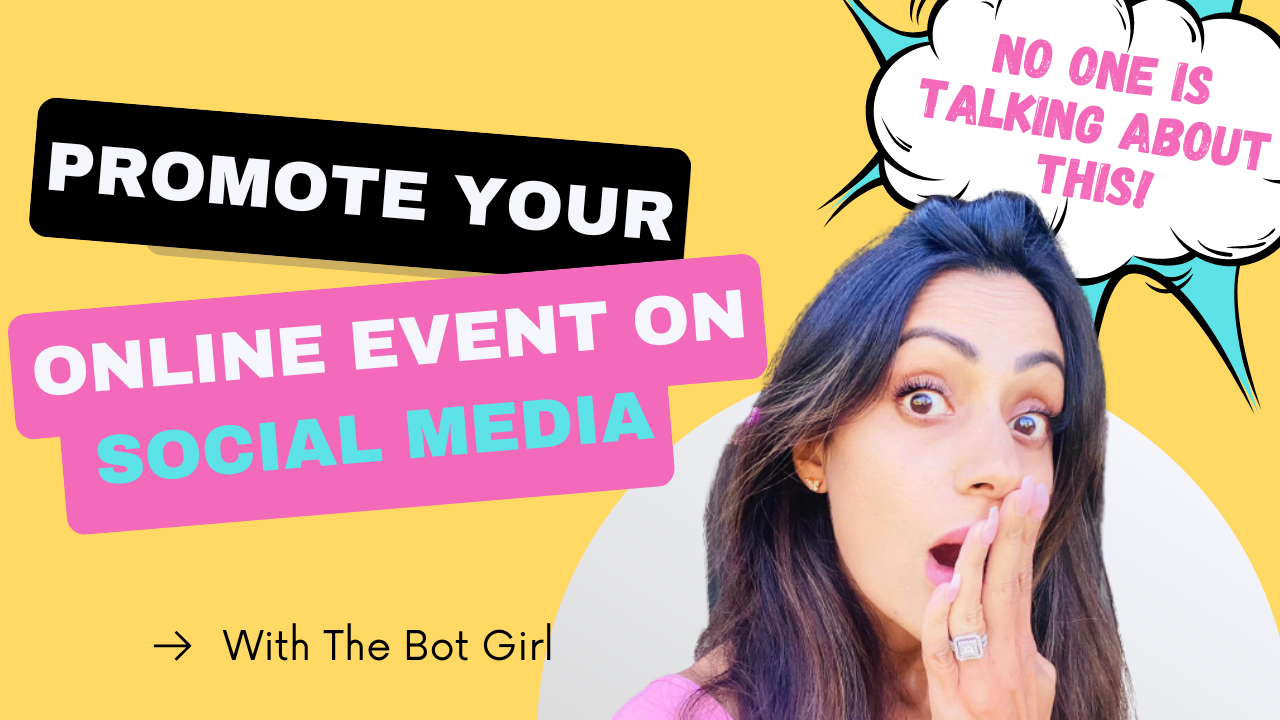 OK, so we start simple: with a keyword comment trigger on Instagram. Somebody comments on one of our reels or posts, and it automatically triggers an automation on our backend and sends them a direct message (DM).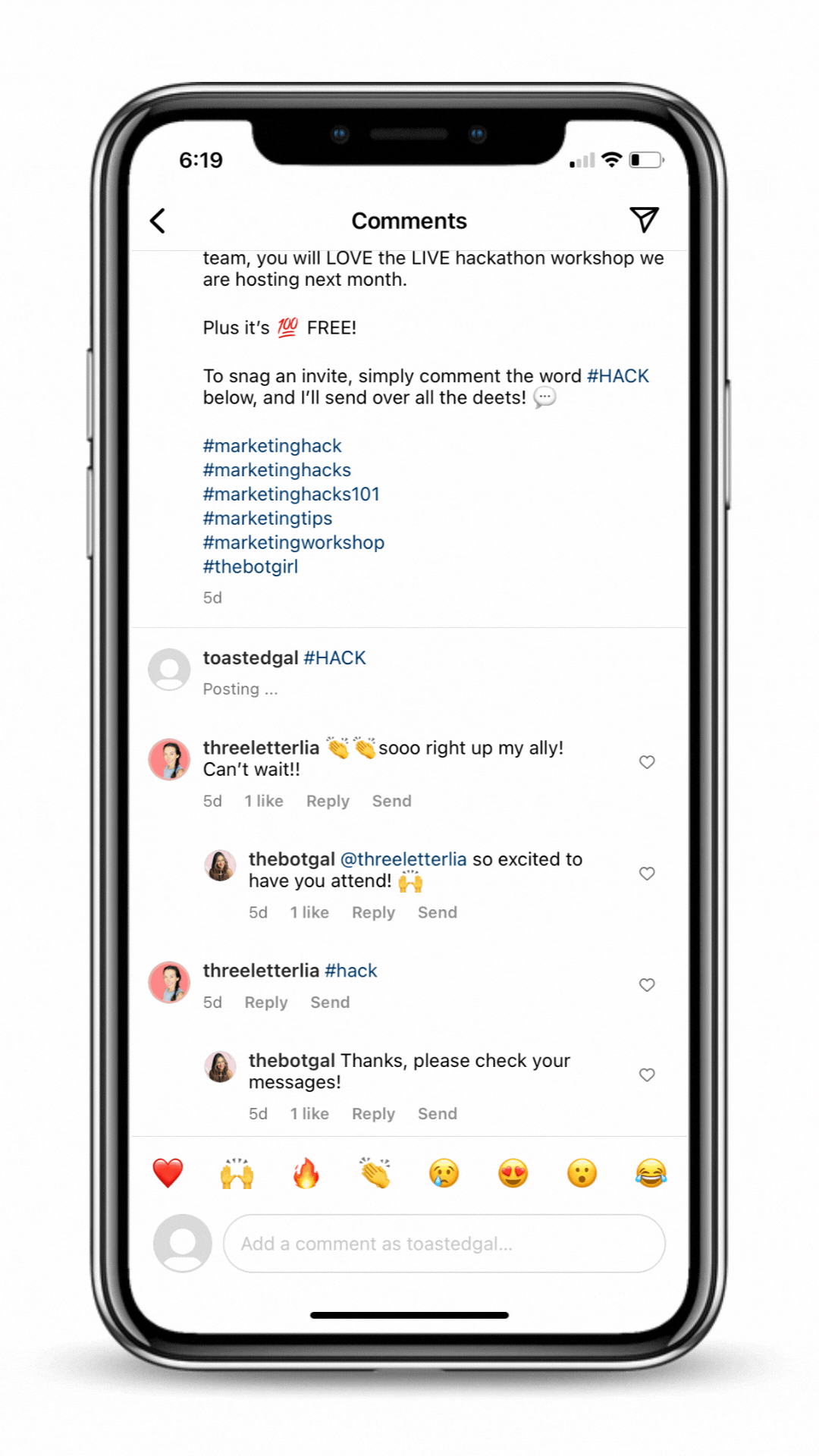 Instead of the DM simply offering up a link, we first ask them to confirm their interest in the event (this increases your show-up rate since you'll only have people who are truly interested in your events signing up for it).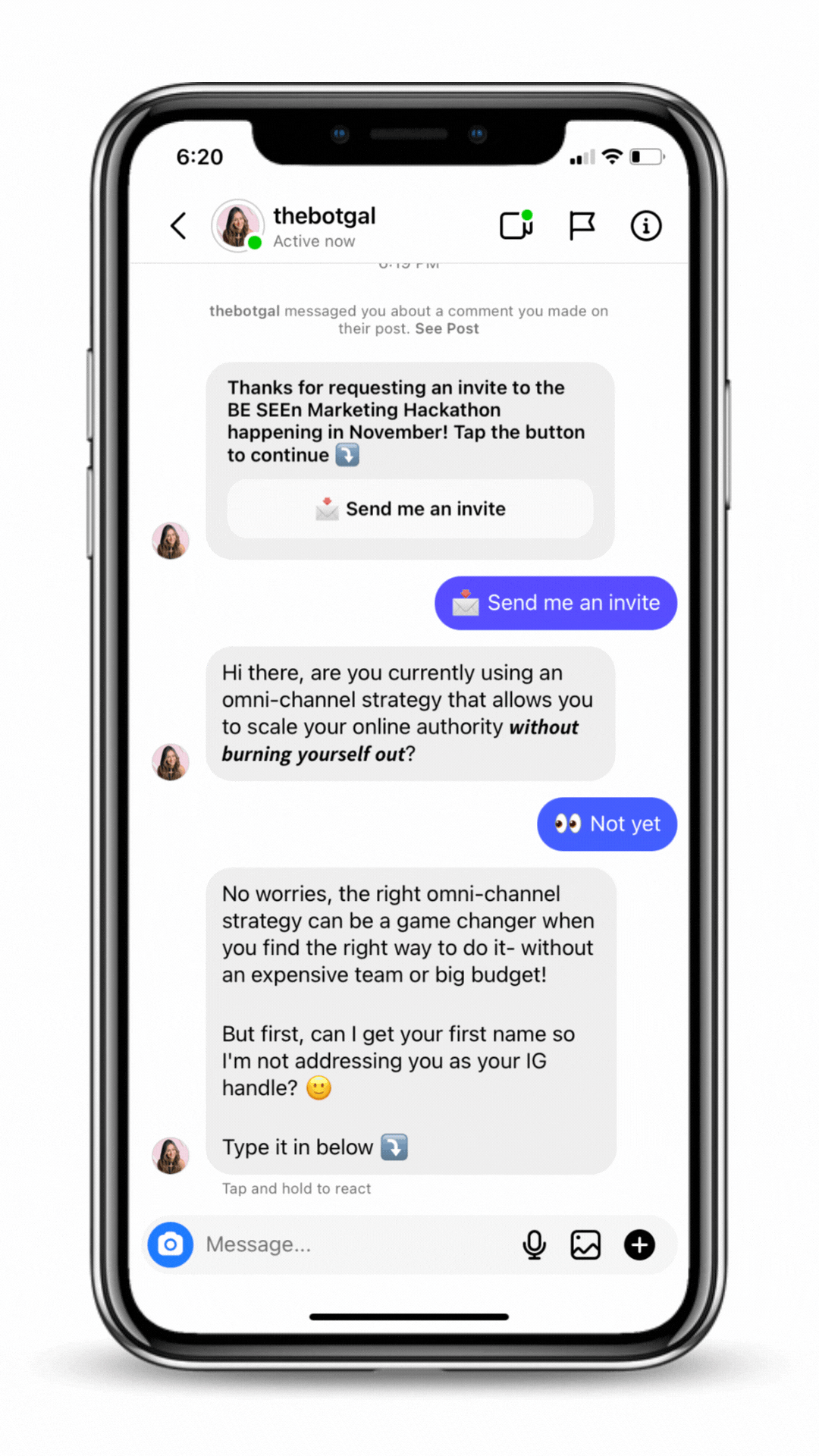 We then ask them for their email, so we can send them an invite to the event (this not only makes your event feel more legit than a random link that is shared on the internet, but also gives you the ability to communicate with them outside of the 24-hour period that we are bound by according to Meta's automated-chat terms of service).
Once they've shared their email, we have our in-house ManyChat app (available on the ManyChat app store here) send over their contact info to our all-in-one marketing system called Buttr- which then triggers a workflow that sends out an email within seconds. The purpose of this email is to detail out more information about the event- which would be hard to do via chat since it's a lot of information to digest.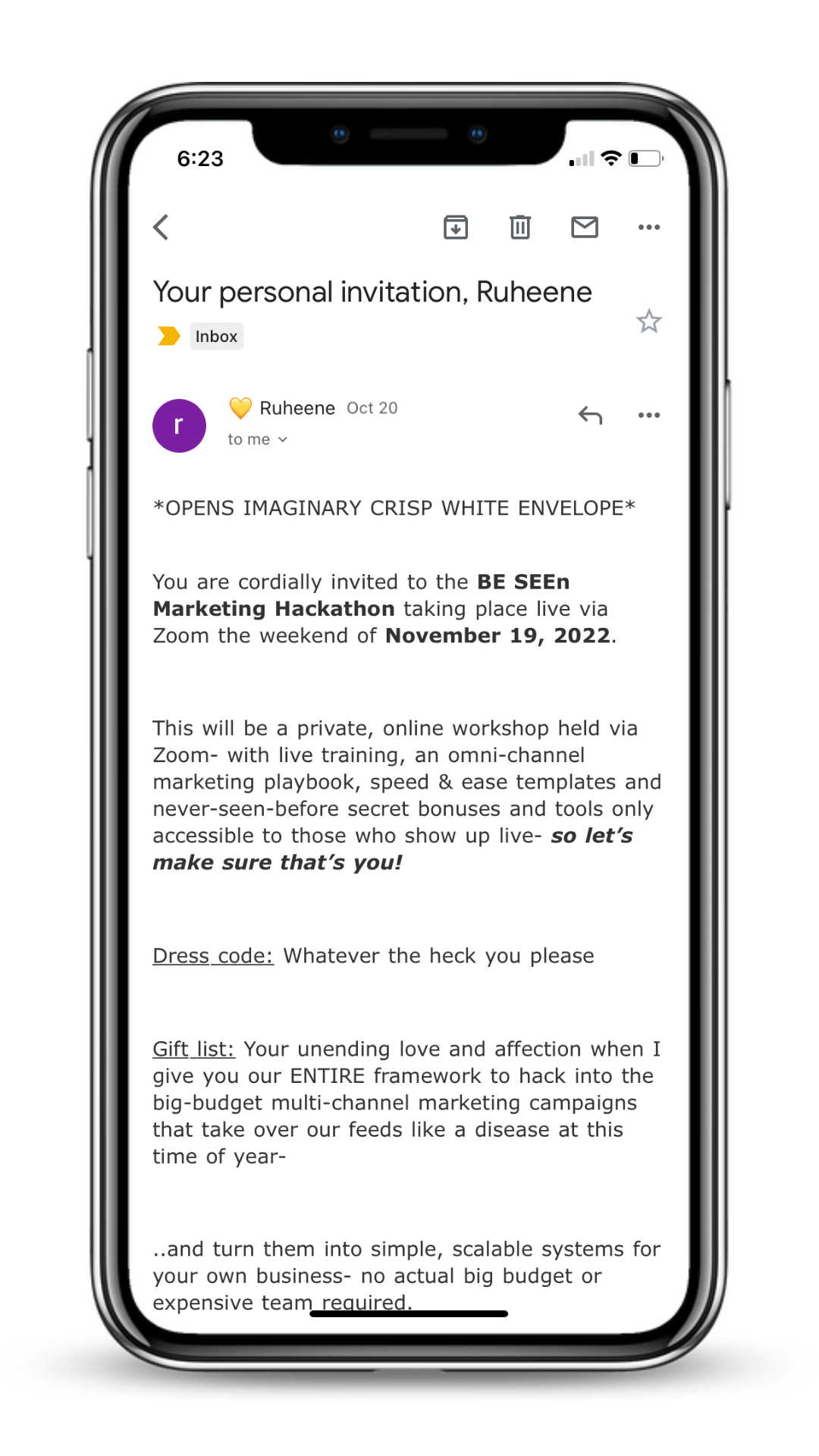 We then ask them to RSVP if they'd still like to attend, by hitting reply to the email and simply typing in 'Yes' or 'No'.
Now, you might be thinking, "But why on earth would we have them jump through so many hoops?!"
The answer is that we have found, through multiple clients and case studies, that although our RSVPs drop by a small amount with the added steps, our show up rates actually increase drastically when we take the time to trickle out the details of the event in this way, and get them excited and motivated to show up live.
Now, this is where it gets really interesting.
In their RSVP, a person can simply reply with a 'Yes' as the email states for simplicity, or they can use a positive intent instead, that of course feels more natural and personal than a robotic "Yes". Something like "Sure, count me in!" is more of a natural, human response- and the beauty of the system is that it is smart enough to know that the intent is still a 'Yes' even if the specific word 'yes' isn't actually present at all.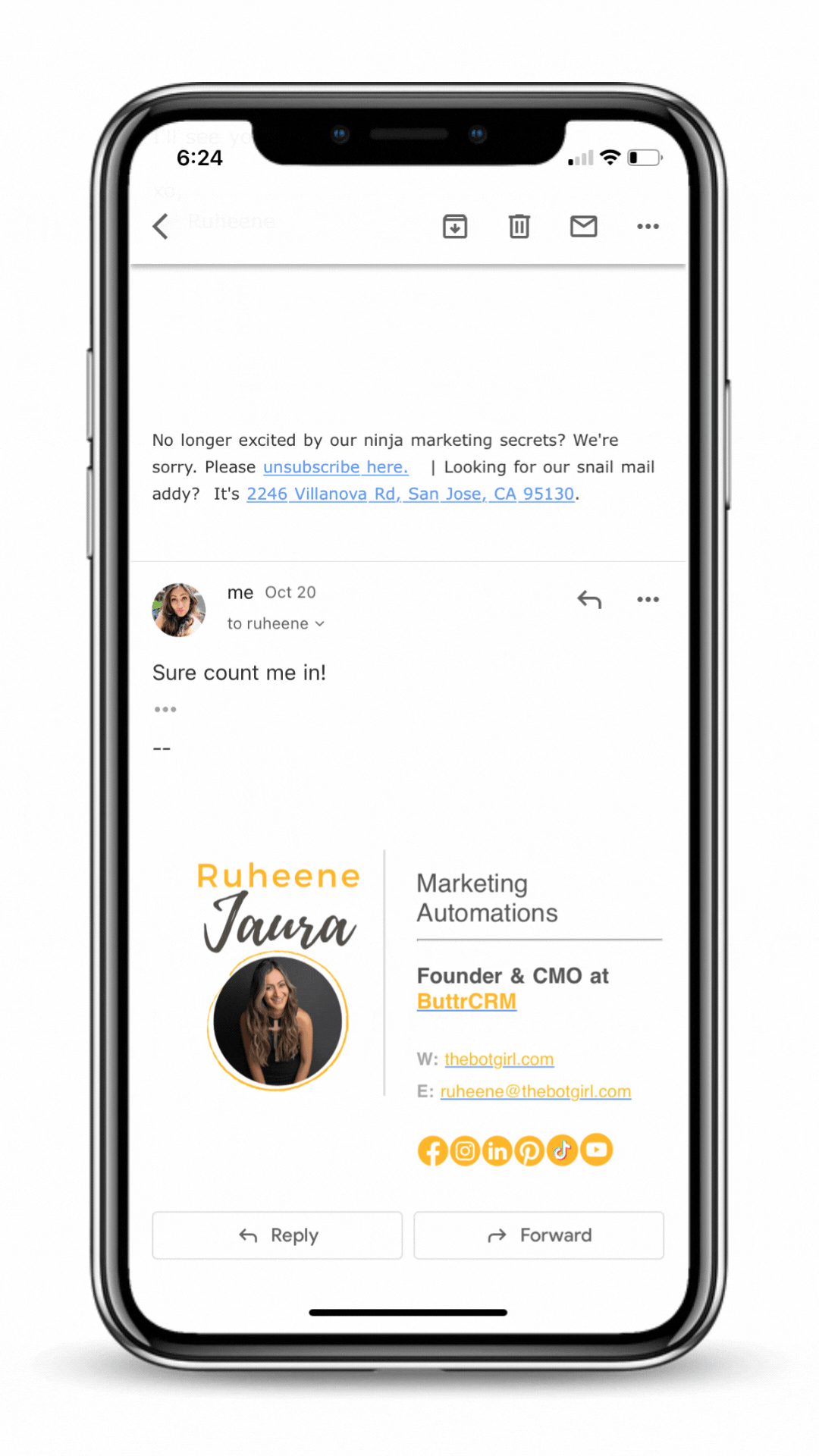 Once the system confirms that the intent (or reply) is a 'Yes', it goes ahead and tags them on the backend and sends them another email on autopilot, confirming that they are now on the guest list.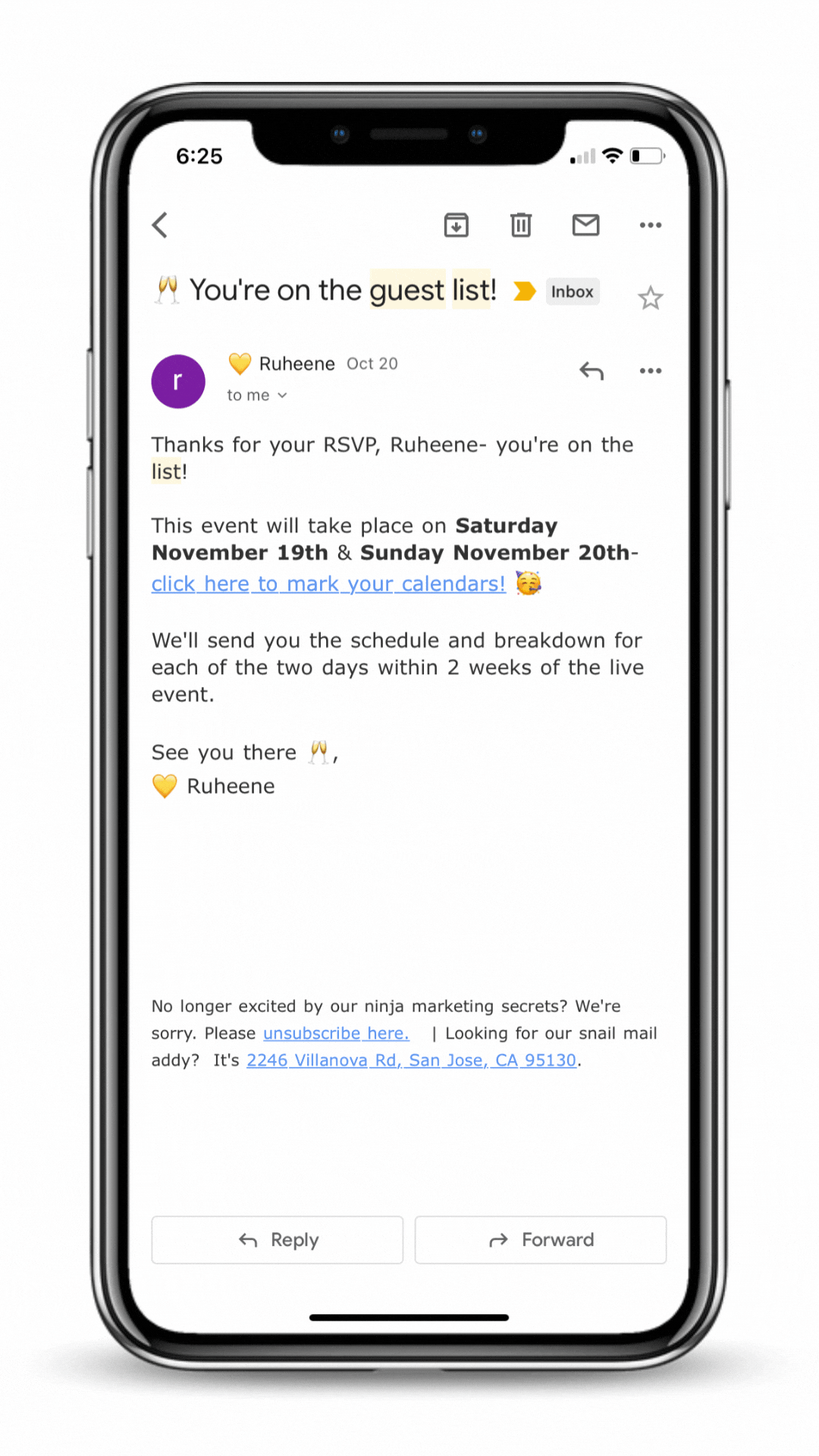 And now you also have what you need to send them pre-event reminders, right from your email marketing platform.
Pretty clever, wouldn't you say?
And the best part?
Is that it took me under 10 minutes to set the entire automation up- from ManyChat all the way to our Buttr account.
Not to mention how easy this process makes it for people to respond to a post with just a keyword and get all the way through your system- and on to your guest list- without a single form to fill out.
---
Want to check out Buttr CRM for all of your automation needs? Click here to check it out now.